Electric Mini Handy Heater Plug-in Wall (400w)
Adjustable temperature:
The wind speed will be displayed by digital LED. You can adjust the temperature at any time according to your needs to keep the temperature at the best level.
Great for anywhere at home:
Dens, reading nooks, work, bathrooms, dorm rooms, offices, home offices, campers, work spaces, benches, basements, garages.
Portable Ceramic Space:
Heater heats up quickly for when you come into the house or work place on those cold days. Perfect to bring along if your going on a RV trip! Just plug in the Handy Heater for a nice warm toasty treat!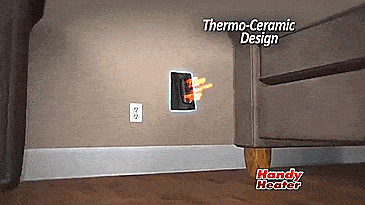 Features and Benefits:
● Compact and great for travel
● Compact personal heater
● Digital temperature display
Operating Instructions:
Plug warm air blower into desired 200~240V power outlet. Use "plug rotation" for most convenient placement on wall ( see setting 3 prong direction adjustment).

Press "ON/OFF" on side of the unit to "ON" position to turn on the heater.

Select your desired temperature use the "+" button to lower the temperature between 15~32℃ on "Disgital Display".

Select your desired fan speed. Press "Speed" button to choose between high (HH) or low( LL) on "Disgital Display".

When finished, press " ON/OFF" to "OFF" position and unplug warm air blower from power outlet.
Features
Are you feeling freezing in room or office through the winter? space heater is totally design against the chill and stay warm with you! Built-in 400W 2 Levels combined with PTC ceramic heating technology contributes to a rapidly heated up zone. Heating up coverage of 40-90 sq.ft, temperature rises 5-10 degrees over ambient.Input voltage: 220-240V.

Fan heater is made with insulated material; The inside thermostat will automatically turn off when internal temperature is over 80°C. Flip protection allows this portable heater to be used on the edge of a tabletop carpet.

Heater for office has 2 modes, Set the adjustable thermostat to your desired temperature or select from 2 quiet settings-high heat or fan only.




Put it on the desk near you or place it on the floor to warm your feet while work, reading or watching TV, etc.

Easy to Use: The Handy Heater is made for your convenience. Simply plug in the Handy Heater into any outlet for quick and easy heat instantly!



















 


 


4 GREAT REASONS TO SHOP WITH US:

 




Unhappy With Your Product? We'll Take It Back!


We stand by our high-quality products and your satisfaction is 100% guaranteed.

-